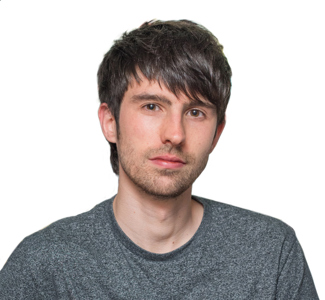 ---
Ben Jennings
The Guardian
---
Ben Jennings is a brilliant cartoonist, well versed in the traditions and grammar of his trade but able to bring the fresh perspectives of a younger generation. His abilities cover a broad canvas. Many of his cartoons have addressed this year's serious themes in sombre fashion, but on other occasions he has used sharply observed humour to make his points.
Drawing a line under Partygate - With Boris Johnson desperate to draw a line under the 'Partygate' scandal that had plagued his government, despite his leadership feeling mortally wounded by it, Jennings depicted him literally drawing a line in the sand, which is then revealed to be the sand within an hour glass. Johnson is trapped as his time at the top fizzles away.
The Snowman - Upon hearing about the death of Raymond Briggs, Jennings deployed 'The Snowman' and its emotive sentiment for the visual of his cartoon to illustrate fears of the looming winter ahead with energy bills skyrocketing during an already harsh cost-of-living crisis.
The Queen's passing - Jennings was filing a cartoon about Liz Truss's energy price cap when the news came in that the Queen had died. This idea had come to him earlier in the day when news about her declining health had been reported, but once her death had been confirmed, he had just two hours to turn around a new cartoon from scratch. He sought to acknowledge the passing of Britain's longest serving monarch and the most well-known of all public figures in a nuanced and respectful way without being mawkish: an extraordinary cartoon, reflecting the truth that we all face that final journey alone no matter our status in life.