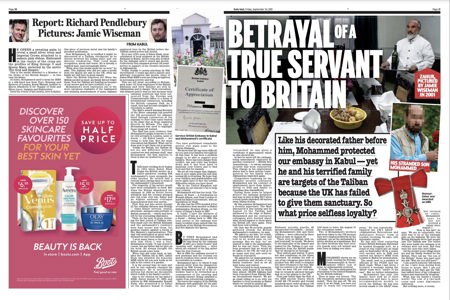 ---
Betrayal of the Brave
Daily Mail
---
For seven years the Daily Mail's Betrayal of the Brave campaign has fought for former Afghan translators who risked their lives beside UK forces to be granted sanctuary in Britain.
Hundreds of stories of those 'abandoned' (the word used by the translators) have been carried by the Mail highlighting their plight as they have been hunted, murdered, beaten and tortured while their families, including children, have become targets of the Taliban.
The campaign is credited by Afghans and members of British military they served with for saving many lives, exerting relentless pressure to hold those in government to account and helping to bring about several significant changes in policy – a fact acknowledged by the Defence Secretary.
But at no time has the campaign been more important than in the past year after the ignominious pull out in August 2021 from Kabul's International Airport left behind thousands who had worked for Britain in a country now controlled by a vengeful Taliban, the enemy they had helped the UK to fight for two decades.
It is no exaggeration to say that in the last year hundreds of Afghans have contacted journalist David Williams, who has run the Betrayal of the Brave campaign throughout for help and advice. Every one has received a reply, many have been helped with their cases for relocation, dozens of them with our assistance have been successful and are now either in the UK or on their way.
As with the end of Operation Pitting the dangers to those who worked for and with Britain grew, our campaign was widened to include not just interpreters and their families but the teachers of the British Council disgracefully left behind because of a technicality over their employment, security guards at the British Embassy and those who fought alongside UK troops.
We told how with tens of thousands of applications for relocation waiting up to a year for a decision – approvals at one stage in April were reduced to single figures because of the crisis in Ukraine - many live in hiding, moving house regularly to stay ahead of the Taliban. Those caught have been beaten, others have disappeared and in some cases been executed.
The campaign has taken-up the cases of the women who taught 'the English language and British values' for the British Council now living in terror both for working for the 'infidel' and simply for being women prepared to work for international organisations.
In a significant triumph for the campaign, several of the women were told in September they will be allowed to relocate to the UK. They included a teacher who a Taliban fighter demanded in marriage, threatening to 'destroy' her family unless she agreed – a story told by the Mail.
Another pregnant teacher, whose story we told, was only able to escape to a third country with our help. She is awaiting relocation. It is a campaign that has helped save many lives while holding the government to account.