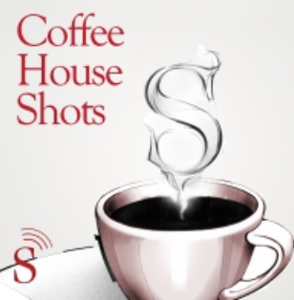 ---
Coffee House Shots Podcast
The Spectator
---
In this year of tumult, Coffee House Shots has brought you the latest in politics, often several times a day. A rotating staff of Spectator writers – James Forsyth, Katy Balls, Fraser Nelson, Isabel Hardman and Cindy Yu – has explained what's happening and why with podcasts often released 15 minutes after news breaks.
This immediacy separates Coffee House Shots from other podcasts. The staff are often armed with nothing more than their iPhones, but the analysis is always unrivalled. The Spectator's tiny staff – we have a fraction of the resources of most newspapers – produces and releases the podcasts at weekends, early in the morning and late at night. Whenever news breaks. Nowhere was this more evident than on our podcast on 6 July this year. With the government about to collapse and Boris Johnson holed up in No. 10, Isabel Hardman and James Forsyth stood on the roof of Parliament recording the second podcast of the day, with helicopters circling overhead. Nine minutes into the recording, Boris Johnson sacked Michael Gove, making it clear, finally, that he too was on his way out. Isabel broke the news, and James offered instant analysis. Other podcasts would wait for it all to settle down. Coffee House Shots, when needed, is also a place for detailed analysis. In August last year, as the United States was leaving Afghanistan and the Taliban was taking over, the team was joined by General Sir Richard Barrons, who was instrumental in setting up the West's military operations there in 2001. 'An attempt was made to build the Afghan state. That failed, despite a fortune and a lot of blood,' he said, devastatingly. Barrons's sober analysis, complemented by James Forsyth's impeccable knowledge of the positions of western governments, made for a conversation you couldn't hear anywhere else. The immediacy of Coffee House Shots, coupled with the quality of its content, has earned the podcast growing audience: last month, the show had over 1.5 million downloads, the highest it's ever been. Our audience is also one of the most loyal. We frequently hold sell-out events for listeners to meet the team, and one another. Earlier this year, we hosted a Coffee House Shots listeners party, in our garden at 22 Old Queen Street. Last month, on the night that Liz Truss's premiership fell apart, we hosted a live recording of the podcast in front of 400 people. We planned the podcast to be titled 'Another winter of discontent?', but it ended up being about a spiralling government, rather than spiralling inflation. You wouldn't have known.
Audience reach: 1,515,000 downloads last month
Audience demographics: 45% under 35, 24% over 55 Audience growth: from 693,000 downloads in January 2021, to 1,515,000 in October 2022. Growth of 219%.