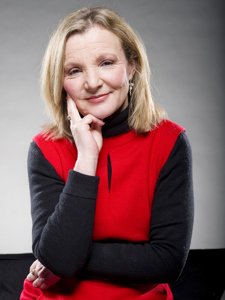 ---
Deborah Ross
The Mail on Sunday
---
For a decade now, Deborah Ross has flown the flag for television criticism. While rival newspapers have seen their columnists come and go, she has remained a constant presence for readers, her name a byword for wit, invention and entertainment.
Over the past two years in particular, her Mail on Sunday TV column has proved a welcome source of relief in the most troubled of times. When the entire country was in lockdown and had nothing better to do than stare glumly at the increasingly poor televisual fare, Ross stepped up for the nation. Readers in their droves wrote in to thank her as, in the view of Mrs R. Dickson of Barnstaple, 'at least we could console ourselves after sitting through yet another dire drama with the certain knowledge that Ms Ross would tear it apart come the weekend'. Never shy in coming forward, she championed programmes such as ITV's Unforgotten, 'a series that not only ennobles the dead, by "unforgetting" them, but also celebrates compassion, humility, doggedness, unflashiness… the qualities that summed up DCI Cassie Stuart… And she seemed so real that I forgot to say who she was played by. The terrific Nicola Walker, of course.' Over the years, Ross's finely tuned TV radar has seen her develop an uncanny ability to discover a new show ahead of the crowd and pass on her tips to readers who may not ordinarily happen upon, say, BBC3 or Apple TV+. So it was with Rose Matafeo's 'delightful, wholly binge-irresistible' romcom Starstruck (BBC3) - 'it was suddenly midnight and I'd watched all six episodes'. Or Channel 4's The Great, starring Elle Fanning as Catherine the Great, and 'its boisterous, mischievous, galloping energy'.
At a time when the NHS came under the spotlight, Ross wasn't slow to recognise how that could chime with a TV audience in the Adam Kay adaptation This Is Going To Hurt (BBC1), starring Ben Whishaw as a permanently harassed junior gynaecologist. 'Whether I'd be happy about Paddington Bear (whose film voice is done by Whishaw) fiddling around down there, I don't know. But it is unflinching in a way most medical dramas are not, particularly in detailing the errors that can happen.'
But it wasn't only dramas that caught Ross's eye, frequently highlighting documentaries such as The Real Mo Farah (BBC1), 'an incredible story told by an incredible man. I was in tears more than I wasn't'. Or Sir David Attenborough's natural history series, A Perfect Planet (BBC1), which prompted Ross to remark that 'in normal times I would have said no matter how bad life gets, at least you're not a fluffy baby flamingo about to be picked off by a marabou stork. Though now we're in Lockdown III it does sometimes feel as if we're all baby flamingos about to be picked off by a marabou stork...' In a world awash with bland, workaday criticism, Ross constantly dazzles. She is without doubt Britain's most original television critic and a tonic for the nation.