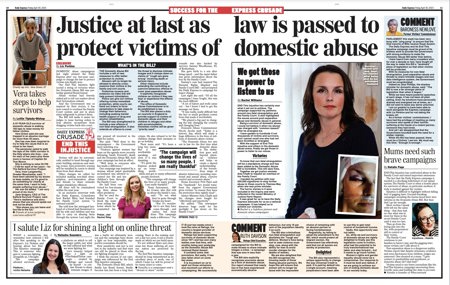 ---
End This Injustice
Daily Express
---
The exclusive Daily Express End This Injustice campaign, ran by Liz Perkins, changed the law through the landmark Domestic Abuse Bill during April, 2021.
The purpose of the two-year campaign was to call for the overhaul of the Family Court system, which perpetrators were targeting to continue their abuse of their victims.
Due to the coverage, the former Justice Minister Alex Chalk said: "As part of the Domestic Abuse Bill we will put an end to the practice once and for all. We want to overhaul the system to ensure the courts offer better protections for those who need them most - as campaigned for so effectively and emotively in these pages. This newspaper deserves huge credit for the spotlight it has shone on the family courts."
The campaign also fought for non-fatal strangulation, post-separation abuse and threats to share intimate images becoming stand-alone offences, which are being criminalised. Due to the impact of the campaign, domestic abuse victims are no longer being cross-examined by their abusers in the family court, which had previously led them to be retraumatised. Now, legal professionals instead pose the questions to victims to ensure the process is fair.
In June of this year, Joshua James Hunt, 26, of the Isle of Wight, was convicted of the new offence of non-fatal strangulation. It is understood to be the first time the law has been enacted.
A report from Women's Aid has also indicated there has been progress within the family court, following the implementation of the Domestic Abuse Bill.
Campaigners including Claire Throssell, Rachel Williams and Rotherham grooming victim Sammy Woodhouse, who was the inspiration behind Louise Haigh MP's Parental Rights (Rapists) and Family Courts Bill that the campaign backed, supported the crusade, along with Baroness Newlove and Spice Girls star Mel B.
Gower MP Tonia Antoniazzi informed me of the case of the imprisoned rapist dad tormenting his family from his cell through the court system and the campaign saw abuse cases featured on the Victoria Derbyshire show, along with the Sunday Mirror, Sun Online and Mirror Online.