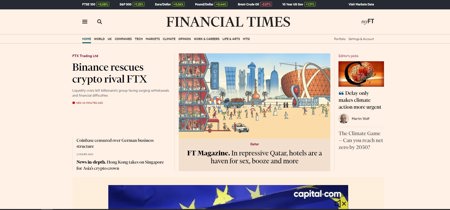 ---
Financial Times
Financial Times
---
The Financial Times has been at the forefront of the online news revolution and the last 18 months have been a landmark period for FT.com, with the launch of a fresh homepage design and new digital features and storytelling tools. These initiatives have turbocharged our journalism, bringing in new audiences and paying subscribers - we recently hit 1.6 million paying readers - and significantly increased traffic and engagement.
Our new homepage was designed in close collaboration with the newsroom and gives editors much greater flexibility to promote and project our award-winning news, feature and opinion content. The design includes multiple new formats, such as "big story", so we can group multiple stories and columns together around a particular theme or event, as we did with the death of the Queen or the Ukraine war.
We launched a pioneering visual storytelling team this year, hiring new graphics, coding and data experts, who have wowed readers with a string of eye-catching digital projects. They took audiences on a journey into war ravaged Ukraine and had a huge hit with the The Climate Game, where players are given the challenge of cutting emissions to net zero. Another visual feast used using 3D modelling that showed space debris poses a threat to modern life. Our online video team broke new ground in 2022 with a series of long form films that shattered traffic records and drew new audiences to FT journalism. Chief among them was The Brexit Effect, a clear-eyed look at the costs to the UK of Brexit, which has hit four million views and restarted the debate about our relationship with the EU. We had other hits with our film on Russia's role in making London a world hub for dirty money and our look at the scandal hit Credit Suisse. We also launched our first long-form audio series Hot Money - an inside look at the businesses that control the porn industry. Our live blog and breaking news team stepped up a gear: when the Ukraine war started and then in September, when markets teetered on the brink after the disastrous mini Budget, the blog powered traffic to FT.com. Updated 24/7 by teams in London, New York and Hong Kong it has become a must-read every morning for visitors to the site wherever they are in the world, with concise summary of all the news that matters. Our columnists have been a huge hit on the revamped FT.com with the likes of John Burn-Murdoch, Jemima Kelly and Stephen Bush finding new audiences online.
Digital publishing is no longer the future of journalism. It is how most people today read journalism and at the FT it is central to everything we do: we are led by the needs of our digital readers, not print deadlines. The FT's revamped website is news focused, sharp and has been a huge hit with our readers.