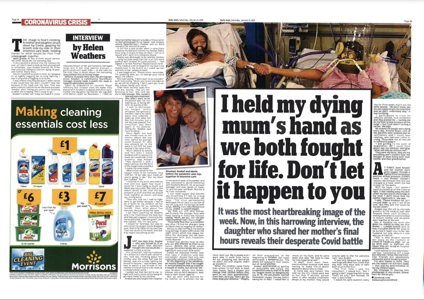 ---
Helen Weathers
Daily Mail
---
It takes the most sympathetic of writers to win the trust of those who have survived terrible trauma. But no matter how harrowing the story, how raw the emotion, Helen Weathers - a feature writer and interviewer for the Mail of some 23 years standing - has a masterly skill at telling the story of interviewees afflicted by heartbreak and fear. And to do this so well, without her prose once being heavy or burdensome, makes her an outstanding candidate in this year's interviewer category.
Helen's interviews examine the experience of the most ordinary of people who, through sharing their stories, desperately wanted her to cast a light on difficult and challenging issues that can, and do, affect us all.
One article centres on the powerful story behind one of the most heart-breaking images of the pandemic. Anyone who has seen the photograph of a critically-ill mother and daughter, holding hands as they lay side by side, in ICU, stricken with Covid, won't forget it in a hurry. And neither will they forget Helen's interview with Anabel Sharma, the daughter of Maria Rico. While Anabel survived, her mother did not. Her story is almost unbearably emotive, with Helen eliciting the most powerful quotes: 'Mum's hand felt so weak in mine, as I gripped on so tightly, begging her to keep fighting. I was crying and struggling to breathe. I was almost shouting… I couldn't hear her because of the mask over her face. That was when a doctor patted me on the hand and said: "Anabel, she's telling you you're not listening to what she is saying. She's ready to go."' Similarly memorable is Helen's interview with the parents of Jessie Earl, one of the presumed victims of murderer Peter Tobin. It's a tale which was elevated in Helen's hands - witness the tautness of that perfect introduction: 'Valerie Earl will never forget the day, more than 40 years ago, when she walked into her missing daughter's student bedsit and felt the cold hand of fear tighten around her heart…' - into a portrait of grieving parents whose determination to achieve some kind of justice for their daughter is a lesson in forbearance in the face of so many obstacles. Helen's intuitive understanding of the issues Mail readers care about was firmly on show with her third interview, which returned to the NHS, post-pandemic, and the collapse after the storm. Former GP, Dr Alison Durkin, was devoted to the NHS, but as a patient felt completely failed when she needed it most. Her extraordinary story of the lengths she went to to get care were a powerful call to action - as yet, it seems, unheeded - for the Government to fix our failing health service.