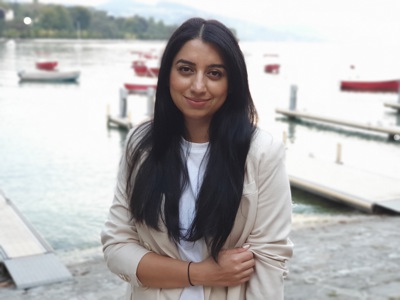 ---
Inderdeep Bains
Daily Mail
---
Inderdeep Bains' bombshell revelations of misogyny, bullying and sexual harassment aboard Britain's nuclear submarines sent shockwaves through the armed services.
The Royal Navy was forced to launch probe after probe as a queue of whistleblowers trusted Bains with their harrowing stories. She started with an expose of serious claims of mistreatment up and down the chain of command in the Submarine Service, complete with a shocking interview with former lieutenant Sophie Brook, the UK's first female warfare officer and who was on course to become the first female captain of a submarine.
Bains worked hard to gain her trust and thanks to her care, professionalism and empathy, Brook agreed to waive her right to anonymity to give the powerful story a searing edge. It also encouraged other whistleblowers to come forward, all of whom placed their confidence in Bains to lift the lid on the scandal with shocking detail yet without causing them to be identified.
The result was an explosive series of articles over three days detailing disturbing allegations of rape, sexual assault and casual misogyny aboard Vanguard nuclear submarines, Britain's most vital and deadly weapon. Her revelations have been widely followed up and led to a full inquiry by defence chiefs. Within days, a decorated naval captain had been removed from his post for allegedly sending 'suggestive' messages to a woman sailor under his command. Don't just take our word for it - consider this extract from an impact statement written by one of the navy whistleblowers: 'I was failed by the Royal Navy from the year I joined the Submarine Service until the year I left the military. I spent my entire career terrified of the press but as it turns out, they were the only people that heard what I had to say. It was because of the determination of one woman, Inderdeep Bains, to listen and understand what I was saying. It is because of her commitment and integrity to her job that she got to the truth. The Royal Navy has a lot to learn.' Bains thrives on journalism that requires a deft touch with victims of crime and she is highly motivated by stories that expose injustice. Last year she was the only journalist to secure an interview when the British teen jailed in Cyprus for 'crying rape' won her appeal. The case attracted international coverage but only Bains landed the exclusive they all wanted, and she did it by gradually winning the young woman's trust with diligent and accurate daily reporting of the hearings in Cyprus, followed by a sensitive approach. One of the Mail's most prolific general news reporters, Bains has been at the forefront of the newspaper's coverage of big stories from royals to crime to political dramas. Her exclusives during the Ukraine refugee crisis, in which the Mail put pressure on the Government to welcome families fleeing the war, included revelations exposing of the absurdity of red-tape-waving officials who demanded multi-million pound British homes to be 'upgraded' to accommodate refugees.