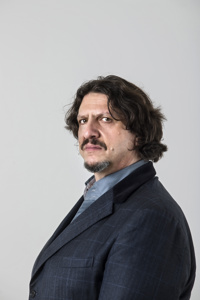 ---
Jay Rayner
The Observer
---
As a restaurant critic, Jay Rayner doesn't usually need to bring his own table and chair. Neither does he often have to set up on the pavement outside. But when you're writing about a restaurant that serves a gold-leaf-wrapped steak for £1,450 you need to be creative – and Jay is nothing if not extremely creative.
In October 2021, the Nusr-Et Steakhouse, inside the Park Tower Hotel in London, was garnering attention for catering to those with wealth, if not taste, by selling them gold-wrapped burgers for £100, gold-wrapped eight-hour short rib at £765, and the aforementioned tomahawk steak (wrapped in gold leaf, naturally). Opened by Turkish chef Nusret Gökçe – better known as Salt Bae – Nusr-Et was a ripe target for Jay's attention. Indeed his readers demanded it. But instead of following the crowd and blowing most of his expense budget for the year on one meal, he came up with the idea of buying a non-gold-leaf-wrapped kebab for £8.50 from the nearby Kebab Kid and taking it to eat outside Nusr-Et at his own table.
While Kebab Kid received a glowing review, the ludicrous extravagances of the menu at Nusr-Et got short shrift – appropriately skewered by one of the best wits in the business.
But while Jay is ready to jump on the shortcomings of the restaurant business, he is also a champion of creative, bold chefs – and most of all he has an eye for a great story and a deserving case. In February 2022, he wrote about Sugarcane, a Caribbean café in London, owned and run by Tarell Mcintosh, self-styled as Chef Tee, which employs care leavers. A few weeks previously, the restaurant had been broken into, vandalised and its stock stolen. In response, the local community, his neighbours and customers, crowdfunded the money he needed to get the place back on its feet. This is the kind of restaurant that sits at the heart of a community that should be celebrated, and Jay makes it his business to do just that.
From devastating one-liners to human stories of struggle and achievement, Jay's aim is always to celebrate and champion what is – post-Covid and amid a cost-of-living crisis – still a beleaguered restaurant sector. And, in doing so, his work is full of the kind of wit, intelligence and insight that both he and the Observer are famous for.
He is an advocate rather than a critic who simply snipes from the sidelines. There is a time for witty put-downs and a time to get real when people's livelihoods are on the line.