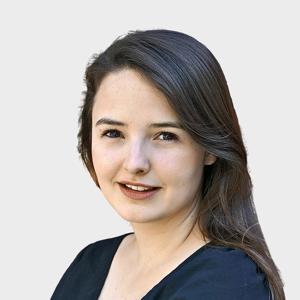 ---
Kate Andrews
The Spectator
---
Since becoming Economics Editor of The Spectator in 2021, Kate Andrews has written a series of agenda-setting articles which have established her as a go-to economics writer, with her finger on both the economic and financial pulse. One of the criteria of this award is to "predict trends." Her 6 March 2021 cover story for The Spectator, "Rishi's nightmare", was devoted to the threat of inflation. Exclusively revealing that Rishi Sunak was using the March Budget to hedge the public finances against the possibility of inflation, Andrews warned that Britain was especially vulnerable to "an inflation resurgence that could crush Britain's economic recovery and follow the pandemic with a financial crisis." Very rarely does an economics writer go so far outside the consensus, and with the confidence of a full cover story. She was mocked for going out on such a limb ("The Spectator joins the inflation doom-mongers" said one newspaper). No one would be so bold as to say that now.
Andrews was just as willing to stand alone amongst her fellow free-marketeers when she warned about what she saw as the dangers of 'Trussonomics'. But she explained, not disparaged. Andrews was writing from the start of this summer's leadership race about the pitfalls in Liz Truss's agenda: mainly the plan to throw fiscal prudence out the window and borrow billions for tax cuts and more spending. When Liz Truss was on course to become Tory leader, Kate interviewed the three economists behind her economic agenda (exclusively revealing Gerard Lyons and Julian Jessop as two of Truss's advisors). The three-page magazine spread (3 September 2022) became the guide used to understand Truss's economic plans, picked up and shared by other news outlets. Andrews herself remained unpersuaded by Trussonomics: on 8 October 2022 she wrote a column saying that Truss was about to bury, rather than champion, low-tax economics because her experiment represented "a fatal combination of miscalculation and hubris". Truss resigned 12 days later.
Andrews has used her extensive contacts in the economics and political world to create a new style of economic reporting, one that combines specialist economic knowledge with an insider's guide to keep readers briefed not just on what's just happened, but what is around the corner. In addition to building set-piece, trend-spotting stories, she reports and provides analysis on daily events on the Spectator's website and daily podcast, as well as doing high-profile interviews, including the-chief economist to the Bank of England Andy Haldane and President Zelensky's economic advisor Alexander Rodnyansky. A woman in a still male-dominated corner of our trade - and one of the younger journalists in this speciality - she has been prepared to go against the grain, spotting trends early.