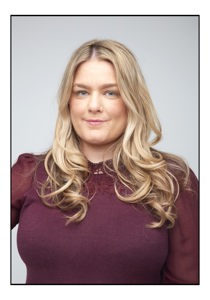 ---
Katie Hind
The Mail on Sunday
---
Quite simply, Katie Hind has an unparalleled knack of breaking scoops with a machine-gun frequency that no rival showbiz writers have ever matched.
The sheer breadth of her stories is remarkable: from television, to film, pop, sports celebrities, radio, the magazine world to breaking the latest inside scoops on real-life soap operas such as the Wagatha Christie trial. Every Sunday, stars such as the Beckhams and Phillip Schofield must wake up with trepidation that Katie Hind may have written in The Mail on Sunday about things that might corrode their expensively-burnished public images. From Paul McCartney, Davina McCall, Jack Grealish, JK Rowling and Amber Heard to countless others, all have been subject of Katie Hind's astute eye for a story. Not just exclusive scandals – which she delivers relentlessly every week – but talking points that inevitably become topics discussed in detail by TV talk shows and newspaper columnists in the following days; the hottest gossip; and beautifully crafted features. Courageously, too, she has highlighted issues such as #MeToo and the hypocrisy of TV companies publicly championing diversity while promoting few non-white on-screen presenters or as members of their management boards. Although Katie Hind's main strength is the sheer scope, volume and surprise subject material of her stories, she has had countless scoops to her name.
An exclusive that David Beckham had signed a £10 million deal to promote the football World Cup Finals in Qatar was followed by media outlets worldwide. Over subsequent weeks, she developed this story, as is her journalistic hallmark, by focusing on how the Beckham deal sat most awkwardly in the context of Qatar's repressive attitudes towards women and homosexuality. Particularly so considering how Beckham has carefully cultivated a positive image within the gay community. Katie's contacts within the world of television are second to none. As the nation mourned the Queen, she was the first journalist to bring to public attention the fact that TV presenters Holly Willoughby and Phillip Schofield had jumped the queue to see Her Majesty lie in state in Westminster. A classic Hind scoop: two of the country's most feted TV celebrities mired in a controversy involving the Queen, as part of the biggest national story for decades and a talking-point about which everyone – yes, everyone – in the country had a strong opinion.