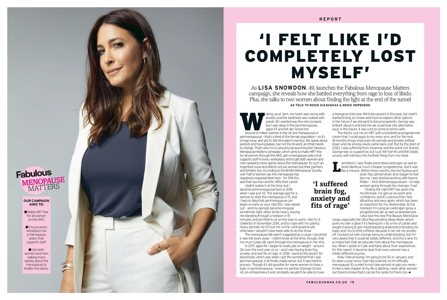 ---
Menopause Matters
The Sun
---
As the UK's biggest lifestyle brand with a 5 million-strong audience, Fabulous is never afraid to stand up and fight for its readers with hard-hitting, multi-platform campaigns that make Britain better for women. We recognised many readers were suffering in silence about something that's inevitable for half of the UK's population, and we wanted to help bring about change.
We started with an exclusive survey of 2,000 Fabulous readers, examining every aspect of how the menopause impacted on their lives - with staggering results that shaped our campaign. Half of women believed there wasn't enough support for them, 49% suffered from depression and 7% felt suicidal.
On October 3, 2021, we launched our Menopause Matters campaign, bringing together celebrities and powerful stakeholders to get behind three aims: - Free HRT on the NHS for everyone. - Employers to put menopause support at the heart of workplace policies. - Bust taboos and help women thrive in menopause.
And it worked! Just weeks - and more than 50 articles later - the government responded to pressure and backed a "menopause revolution" pledging to cut the cost of repeat HRT prescriptions to just £18.50 a year - a saving of up to £205. Businesses responded to our calls to step up, with leading British brands including Nationwide bank, pub chain Young's and Estee Lauder backing the campaign and pledging more support for their employees.
For four weeks our incredible cross-platform team brought the menopause to the heart of the national conversation. We published articles, landed prime-time TV slots on ITV's Lorraine and Channel 4's Steph's Packed Lunch, ran a social media campaign fronted by celebrity ambassadors, engaged our teenage audience with videos and Snapchat helping to raise awareness and impact. Celebritiy ambassadors Lisa Snowdon, Michelle Heaton and Ulrika Jonsson spoke powerfully about how the menopause had stolen chances of pregnancy, and left them suicidal and so crippled by brain fog that they belived they had dementia.
We engaged with women of all ages via Facebook, Instagram, Twitter and Snapchat, and made a safe social community for them to share their stories, worries, questions and opinions. Our incredible video team also followed the campaign closely, filming Davina McCall out and about with her megaphone, and Katy Duffy, whose menopause journey was such a struggle that her confidence hit rock bottom. On YouTube and social channels our video content was viewed over 200K times. Our juggernaut of impressive multimedia content, teamed with our unrivalled contacts, meant we were reaching millions of women and also had MPs fighting our corner in the Houses Of Parliament, too. Fabulous' Menopause Matters had huge impact, securing real legislative change. It has made life a little easier for our female readers by putting the cost of HRT back in their pockets at a time when they are facing a cost of living crisis, and by empowering and educating them to help navigate this fundamental life stage.