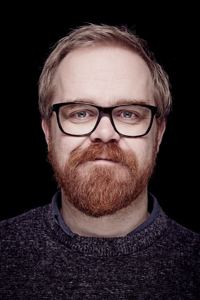 ---
Morten Morland
The Spectator
---
There are three sorts of artists: those who can draw beautifully, those who can capture a likeness and those who know enough to satirise. Only Morten Morland combines all of them. His iconic Spectator covers have told the story of this incredible year.
The fall of Boris, war in Europe and the debacle of Truss: for each, Morten has curated an image that sticks in the mind and grabs the essence of a story. As Truss and Kwarteng entered Downing Street, he dressed them up in Union Jack jumpsuits, the PM at the wheel and Kwarteng in the sidecar. They were heady artists going into fifth gear. Four weeks later, Morten painted their crash. Morten made the motif of the moment.
Morten made Putin paranoid: the house elf using crayons to turn Ukraine red, throwing a tantrum in the Kremlin, diving into a swimming pool of gold. Following the uncovering of war crimes in Bucha, Morten hauntingly made Putin's head out of skulls.
The most depicted figure has been Boris, yet Morten never once went back on familiar ground. Boris fought off the EU with a vaccine sword, took money off the workers with a bowler hat, ran off a cliff with Starmer's trampoline to catch him, presided emperor-like over a court of chaos, hid under a pile of bricks with a glass of red in hand, sheltered in a Lulu Lytle trench, walked around as Monty Python's Black Knight and ran away from a boulder before he left the stage.
Morten's work is always the first thing a reader sees, whether they see the cover posted on Twitter on a Wednesday afternoon, get it through their letterboxes on a Thursday morning, or see it jump out – as it does – from the others on a newsstand. When we get Morten's cover image through on a Tuesday, our reaction is always a 'wow'.
Each week, his cover art underlines the point that a good illustration can say more than thousands of words from writers. Morland's work for The Spectator makes his claim to be the greatest satirist of British politics and society since Gilray.