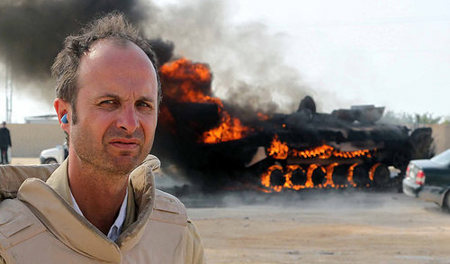 ---
Oliver Harvey
The Sun
---
In an emotive and vivid piece of colour writing, Oliver brings to a tabloid audience the full horrors of the war in Ukraine.
In the recently-liberated town of Izyum he visited a mass grave site where some of the dead - mostly civilians - had been discovered with bound hands or ropes around their necks, according to Ukrainian officials. Piecing together a compelling narrative with interviews from local people and officials, he sheds light on allegations of torture and murder. He tells how one moist-eyed local, Victor Troyan, 67, gestured towards the grave pits and said: "We have no other option but to win this war." In another piece, highlighting the political failings and criminal greed at the heart of the migrant crisis, he tells a truly moving account of the drowning of an Iraqi family in the English Channel. Oliver had met Kurdish mum Khazal Hussein and children Hadiya, 22, Mubin, 16, and seven-year-old Hasty as they pitched their tent in a marshy field in Dunkirk. He published a story about their hopes and dreams of a new life in Britain. Days later they were dead after their flimsy dinghy capsized. Working with Iraqi freelance Nechirvan Mando, he tracked down grieving father Rzgar as his young family was laid to rest. Methodically piecing together the events leading up to the drowning, Oliver produced a piece of public interest investigative journalism at its finest. And in an exclusive interview, Oliver brought together two men who well understand the pain of being imprisoned by the Iranian regime. Richard Ratcliffe - whose wife Nazanin Zaghari-Ratcliffe was held for almost six years - listened to the heart-wrenching account of former US hostage Barry Rosen. With a rifle pressed to his temple, Barry was told by his Iranian captors he had ten seconds to admit he was a spy. As the grim countdown began, the New Yorker wrestled with the dilemma of either being perceived as a traitor to his country or leaving his kids fatherless. "On the count of five I relented," 77-year-old Barry revealed. "I signed the false confession, distraught and completely ashamed."
Barry - held for 444 days following the 1979 Iranian revolution — said: "What they did to me, I can't forget. Nazanin has gone through much worse than I did. Richard's fight for her release is heroic."
During the interview, which took place before Nazanin's release, Richard said he was grateful for the emotional support he has received from Barry, revealing: "It's just hearing someone say, 'Listen, I understand what you're going through'."