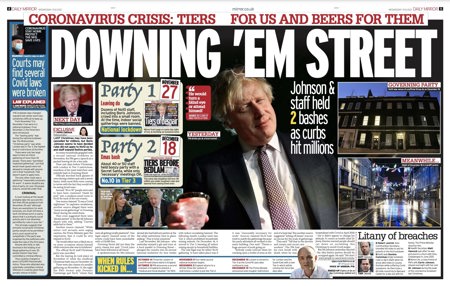 ---
Partygate
Mirror
---
When the Mirror's Political Editor Pippa Crerar first revealed Boris Johnson had broken his own lockdown rules by attending a number of parties in Downing Street she was met with obfuscation and lies by No 10.
Downing Street denied there were any parties and claimed the guidance had been followed at all times.
It was only thanks to Crerar's tenacious reporting that the truth was finally exposed.
Partygate resulted in Boris Johnson becoming the first serving Prime Minister to be issue with a police fine and played a pivotal role in his subsequent departure from office.
Her first Partygate exclusive, in November, disclosed that a No10 Christmas party was held the year before, with the PM also giving a speech at a packed leaving do, all while the country was in the grip of its second lockdown. There were hints of more to come: one source claimed there were "many social gatherings" in Downing Street at that time.
Over the following months, Crerar published further revelations about lockdown-busting events in Government, several with the PM present.
These included: a raucous Christmas bash at CCHQ; images of the PM with an open bottle of bubbly on his desk; No 10 aides holding 'wine time Fridays' with suitcases of booze; staff buying a wine fridge; fed up Downing Street custodians complaining about late night socialising; aides messaging "the bar is open".
It was painstaking work that required trust-building, uncovering fresh leads and forensically piecing together evidence.
Crerar also revealed there were pictures of Johnson holding a can of beer at his lockdown birthday party. It was for this - after the Met Police announced it would investigate - that he was later fined, becoming the first sitting PM to have broken the law.
An unprecedented 126 fines were eventually issued.
Yet Crerar revealed the Met investigated Johnson for just two of the half dozen gatherings he attended. When Sue Gray's full report was finally published in May, every single detail of her tireless reporting was confirmed, despite multiple denials from No 10, senior ministers and the PM himself.