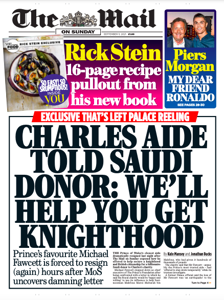 ---
Prince's Foundation
The Mail on Sunday
---
The Mail on Sunday's ground-breaking investigation into the Prince of Wales's charitable foundation was followed not just by our Fleet Street rivals, but by news outlets around the world.
Our journalists spent months doggedly pursuing leads and persuading sources to talk. The breakthrough came in August 2021 when we obtained a crucial piece of evidence – an extraordinary email offering access to the then heir to the throne as a package deal, including dinner and a tour of Prince Charles's cultural centre at Dumfries House in exchange for £100,000.
But that was just the beginning. What followed was a crushing development - publication in the MoS of a letter written by Michael Fawcett, the right-hand man of the then Prince of Wales, which offered to help a wealthy Saudi donor obtain not only British citizenship but also a knighthood, again in exchange for vast donations. Charles was inevitably implicated.
The story reverberated around the world, infuriating the Palace and the MoS's rivals in equal measure. That letter is now at the heart of ongoing, extensive investigations by the Charities Commission and the Metropolitan Police. Nearly a year later, the investigation's effects are still being felt.
The three outstanding - and beautifully written – articles ran across three consecutive editions of the Mail on Sunday, a sign of the magnitude of the story.
The first story, detailing how £100,000 could secure a meeting and conversation with Charles, triggered a major investigation by the Prince's Foundation. Starting - as the best stories do - with a tip, MoS reporters spent months pursuing a lead which took them directly to the Queen's firstborn. The resulting article was an exclusive of major proportions, attracting global attention and follow-ups.
The second package of stories was of such significance it forced the immediate resignation of the future King's closest aide after we uncovered a letter - on headed Dumfries House Trust paper - from Michael Fawcett, in which he offered to help secure both a knighthood and British citizenship for a billionaire Saudi donor to Charles's charity. The exclusive article was a bombshell, prompting widespread concern about the manner in which a leading member of the Royal Family had conducted his affairs and raising questions about his judgement. In the third piece the MoS delved in detail into the mysterious fate of a missing £500,000 donation made to Charles's charity by a former Kremlin banker. The coverage was hard to put down, featuring glamorous Belarusian donors, the British monarchy and vanishing cash. This investigation made a real difference - including changes within the court of the future King. And its message was clear: there's nobody the MoS won't take on in its mission to hold the most powerful people in British society to account.