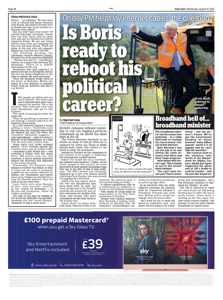 ---
Richard Pendlebury
Daily Mail
---
Feature writer Richard Pendlebury has spent much of 2022 on the ground covering the biggest foreign story of this or any other recent year – the Russian invasion of Ukraine. While there he has written – to widespread acclaim – a series of long read dispatches from in and around the besieged capital Kyiv and, more recently, the south eastern frontline zones. These have been instrumental in helping to raise more than £10 million for the Mail Force Ukraine Appeal to help civilian victims.
He and photographer Jamie Wiseman arrived in country on the first day of the war and stayed for almost two months, filing first hand feature and colour pieces almost every day that were picked up across various media platforms. After the Russian forces withdrew from Kyiv he was there to describe the shocking evidence of war crimes against civilians in occupied towns. His unique perspectives of what the population was enduring saw him invited to contribute an essay to the recently published book: Reporting the War on Ukraine: A First Draft of History. While Kyiv remained under bombardment and threat of capture Pendlebury sought to present new and enlightening perspectives of what the population was enduring. The first of the two pieces from Ukraine included in this submission is perhaps the best example of this approach. In early March, with the fighting around Kyiv still at its height, he and Wiseman spent a night in an apartment on the top floor of a 23 storey residential block that overlooked the frontline suburb of Irpin. The tiny flat belonged to a concert violinist -Andrei - who was the only resident still living there. During that surreal and terrifying night Andrei performed selections from Bach and other classical composers, while the tower block trembled as an artillery barrage fell on Irpin and Bucha beyond. 'This is what the end of a civilised world looks like,' Pendlebury wrote of the nightmare vista from their dangerous vantage point. Wiseman's photographs reflected the terrible beauty of the burning town at night.
As the invaders withdrew from Kyiv, Pendlebury and Wiseman and their team drove into territory only just vacated by the Russians. They were among the first eyewitnesses to come across an horrific stretch of highway along which the burned and rotting corpses of civilians killed by Russian forces as they tried to flee the invasion, lay in and beside the wrecks of their cars. Nearby they then found the shattered human and material remains of a just ambushed Russian column. Both scenes, he wrote in the second, harrowing piece, were 'a visceral reminder of the horrors of war'. Pendlebury returned to Ukraine in August and witnessed the shelling of Nikopol by Russian forces around the Zaporizhzhia nuclear power station across the Dnieper river. The third piece is a powerful dispatch about the southern front, particularly a neighbourhood in the city of Mykolaiv that came under sustained rocket attack while Pendlebury was present.