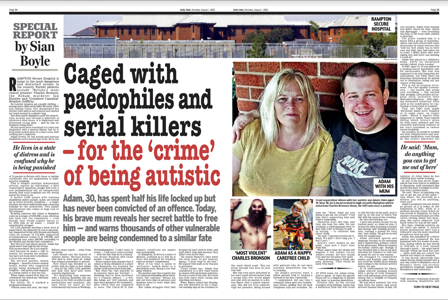 ---
Sian Boyle
Daily Mail
---
Sian Boyle's adroitly written long-reads and special reports for the Daily Mail consistently engage readers, break new ground and bring tangible positive change.
She combines the tenacity and diligence of the news reporter she once was with a flair for innovation and thinking outside the box. Her most poignant exclusive told for the first time the story of Adam Downs, an autistic man with learning difficulties. Though he could barely read or write, he was locked up with murderers and cannibals, despite never committing a crime. Through heart-rending interviews with Adam's mother, Sian's searing long-read shone light in to a dark and very disturbing corner of the social care crisis. Following publication of the feature, Jeremy Hunt, former Health Secretary, said the issue was 'a human rights scandal which is a massive stain on Britain's reputation' and a 'national shame'.
Last autumn, when Sian heard of a wave of spiking attacks on students at her old Nottingham campus, she was determined to investigate. Having had her drink spiked during her own university days, she was disturbed at the new epidemic of young female students being injected with needles. Sian takes readers to the epicentre of the attacks, Pryzm nightclub in Nottingham, where they learn about the scores of frightened young women including Hannah, whose friend was targeted in this disturbing new manner. The feature led to cross-government ministers agreeing to tackle the issue.
In May this year, the Department for Education and the Home Office launched a new taskforce group. As a result, UK Universities must now produce policies on how they will protect students against spiking.
The Covid Pandemic saw the proliferation of any number of theories about the origins of the novel coronavirus that caused it. In an eviscerating three-page special report, Sian took readers through the evidence surrounding Peter Daszak, the British scientist who had close contacts with the coronavirus research lab in the Chinese city of Wuhan where the virus first emerged. He orchestrated a campaign via British medical journal The Lancet, aimed at refuting any suggestion that the Wuhan lab was responsible. Sian broke new ground, revealing Daszak's admission in a podcast three weeks before the outbreak that coronaviruses could be genetically manipulated in a laboratory. She also exposed The Lancet's previously unknown close relationship with the Chinese scientific community, as well as Wuhan's money trail to the Pentagon in the USA. Joining the dots for a British readership overwhelmed with global conspiracy theories and frenzied misinformation to present the definitive lab-leak story, this feature challenged the consensus view of the pandemic's origins.