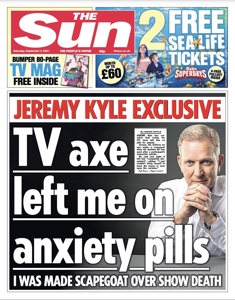 ---
Simon Boyle
The Sun
---
Simon's wide-reaching contacts book built up over years of showbiz reporting has seen him able to combine insightful exclusive scoops which rivals playing catch-up alongside deeply personal interviews with Britain's biggest names.
His relationships have allowed him to secure the only exclusive newspaper interviews with major stars including Ed Sheeran, who also gave Simon permission to reveal news of him becoming a father, while his stories get to the heart of household names' lives.
Simon's long-standing relationship with Jeremy Kyle, developed over many years after he was axed by ITV amid a storm which set the agenda for months, helped Simon secure Jeremy's first and only interview about the shock suicide of a participant from his daytime TV show – an incident which sent shockwaves throughout the industry and set the agenda for months.
After breaking the original story, Simon continued to push for Jeremy's take on events and was eventually able to persuade him to sit down and open about how it had impacted his own life – with Jeremy admitting he had sought medical help and been prescribed medication to help him cope with depression and anxiety following the tragedy. The interview provided an exclusive front page splash in The Sun which was widely followed by rivals, and was in depth and detailed enough to lead to a second spread a day later.
Simon's exclusive revelation about television presenter and actress Denise Van Outen's love split in January was followed up widely by rivals, and proved to be one of the best read stories on The Sun's website all year. Denise and fiancé Eddie Boxshall had become a popular pairing on TV's Gogglebox, but Simon revealed news of his cheating with several other women prompting Denise to end their relationship.
He then used his showbiz connections to forge a relationship with Denise, becoming so close that she also chose to give him her only interview about the break-up two months later – opening up about the revelation and her decision to kick him out of their home in a front page chat.
After a lengthy absence from work, Strictly Come Dancing and Radio 2 presenter Rylan Clark worked with Simon to reveal he had been taken to a mental health hospital after an extra-marital affair ended his six year marriage. Simon was able to build up enough trust with the TV host for him to open up about the marital and health crisis, confirming his split exclusively in The Sun and a day later spoke for the first time about his infidelity in a follow-up story. Simon's entry demonstrates that traditional showbiz journalism can still provide the most insightful and gripping access to stars, based on long-standing and hard-won relationships. His willingness to put huge amounts of time and effort into becoming genuinely close to A-list names pays off and regularly leaves rivals out in the cold.