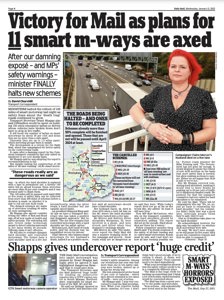 ---
Smart Motorways Death Traps
Daily Mail
---
The Mail's intrepid smart motorways campaign was impossible to ignore. It led to a Government U-turn – pausing the rollout of a further 120 miles of the 'death trap' roads.
The campaign was spearheaded by a six-month investigation by Susie Coen, a series of damning front pages and a video that exposed holes in officials' claims about the safety of the roads. At least 18 deaths were thought to have been at least partially caused by the removal of the hard shoulder. Four coroners flagged the roads as a threat to life. But - despite outcry from campaigners and the public - the Government and National Highways pressed on with the cost-cutting scheme.
Roads bosses continued to wheel out the same reassurances. They said there was 'more than 100 per cent' CCTV coverage and 'ground-breaking' Stopped Vehicle Detection (SVD) – the radar system that is supposed to alert staff to a broken down vehicle within 20 seconds - would keep people safe. This was at odds with accounts of whistleblowers who raised concerns over the state of the equipment. With millions of daily road users' lives at risk, there was undeniable public interest in finding out whether these safety claims were true.
Susie's thorough investigation - which involved spending six weeks working undercover at the organisation's South Mimm's branch - was packaged together in a bold campaign. She discovered more than one in 10 vial CCTV cameras were out of action – a fact later confirmed by an inquiry. Fatal accidents - including a crash which left four people dead – were not recorded. SVD was not fit for purpose and workers were scared deaths were waiting to happen.
The investigation – which ran for three days in print - set the news agenda. It was followed up by broadcasters including Today programme, LBC, Sky News and was picked up by broadsheets. The campaign prompted then Prime Minister Boris Johnson to order an urgent investigation into the findings and the Transport Select Committee referenced the reports in its scathing report published one month later. When halting the scheme, former Transport Secretary Grant Shapps praised the six-month probe saying the Mail deserved 'huge credit for backing up' safety concerns and the investigation would 'undoubtedly' save lives.The work was heralded by grieving families of those killed on the roads as well as shadow ministers and campaigners.