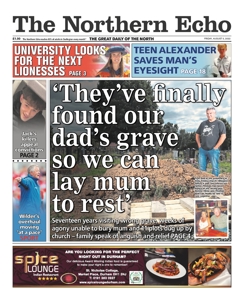 ---
Someone else is buried in dad's grave
The Northern Echo
---
This is an example of regional newspapers at their best. Uncovering an issue affecting one reader which then subsequently becomes national news and an issue which affects the whole county. It then became a government focus after being raised in the Commons by an MP and is now the subject of an inquiry – all of which would never have come to the forefront without a regional newspaper shining a light - that paper being The Northern Echo.
It began with a piece of old-fashioned journalism. A trainee reporter picking up on a conversation about a County Durham family who had apparently discovered their dad was buried in the wrong grave. After further investigation, the reporter Daniel Hordon managed to contact this family who relayed an astonishing story that they had been visiting the wrong grave of their dad for 17 years.
This was only discovered after their mum died and her last wishes were to be buried in the same plot as her husband. When the plot was dug, someone else's coffin was inside. To add insult to injury, the church could not locate the father in the graveyard and all the while, this grieving family were unable to bury their mum. They were happy for Daniel and The Northern Echo to take up their fight to get action and answers.
The exclusive story drove huge digital audiences, was shared widely on social media channels and of course delivered a massive impact with the front page. https://www.thenorthernecho.co.uk/news/20292661.durham-family-spent-17-years-visiting-wrong-grave-due-blunder/z
The story then made national headlines – but for the reporter and The Northern Echo this was also about campaigning and fighting for its readers and that is what we continued to do. We enlisted the help of Easington MP Grahame Morris who wrote to the Government, the Diocese of the Church of England, and brought the matter to the attention of the Bishop of Durham and Archbishop of Canterbury. https://www.thenorthernecho.co.uk/news/20592404.grahame-morris-mp-calls-action-durham-grave-blunder/
Further families came forward who had made the same shocking discovered by accident. https://www.thenorthernecho.co.uk/news/21882255.bishop-auckland-familys-upset-visiting-wrong-grave-43-years/
Again the stories made national headlines.
We covered each step of the story – while repeated attempts were made to locate the grave of the Bell family's dad, with a staggering eight graves eventually being needed to be dug up before they located him and they could finally grieve and lay their mum to rest.
What The Northern Echo discovered was a huge blunder of record keeping by the church. We continued to push for answers, and after raising the issue in the Commons, we managed to secure an apology for this family from the government's Church Estates Commissioner. The efforts were recognised by Hold the Front Page and other media commentators. https://www.thenorthernecho.co.uk/news/21226941.family-receive-commons-apology-wingate-grave-blunder/ https://www.holdthefrontpage.co.uk/2022/news/trainee-reporter-wins-apology-from-mp-over-family-grave-mix-up/ We were invited to attend the funeral and cover it when this family finally laid their mum to rest and were able to grieve properly for their dad. But the family, we and believed this was a wider issue. After continued pushing, we managed to secure a full inquiry by the Church of England into the issue, which starts on November 1 – which we will follow every step of the way.
Further investigations via an FOI uncovered that seven more families have had to endure shocking grave mix-ups burying their loved ones at council-owned cemeteries across the North East. https://www.thenorthernecho.co.uk/news/23022276.durham-darlington-teesside-loved-ones-buried-wrong-graves/
This investigation is now being rolled out across our sister titles in the Newsquest network where we believe we will uncover similar issues. The Church does not come under the FOI remit – but we believe this is the tip of the iceberg which we hope the Church inquiry will reveal. This story has taken on huge significance, with a huge public interest element and undoubtedly could become a national scandal of failed record keeping leading to burial blunders, affecting possibly thousands of grieving families across the country. All uncovered from one conversation that The Northern Echo and our tenacious reporter refused to let go. A terrific example of quality, dedicated local journalism and worthy of an award. The Bell family whose story we told sent this thank you: "You have been more than helpful, above and beyond. As a family we have always read The Northern Echo. When this nightmare happened, we didn't seem to get anywhere at all. We contacted yourselves and spoke to Daniel Hordon who was very understanding and sympathetic and showed empathy. He has worked with this case right from beginning liaising with us every step of the way and til this day he is still keeping us informed as likewise. We would like to thank you personally you have worked above and beyond." Testimonial from Grahame Morris, MP for Easington, County Durham: "The Northern Echo is our region's paper of record and great campaigning forces. They demonstrated both values representing families in distress who were unable to locate the graves of loved ones wrongly interred. Through diligent research and work The Northern Echo supported individual families but identified a systemic flaw which is likely to affect thousands of family graves across the country. The Northern Echo's exposure of this story and campaigning zeal is driving forward change within the Church of England, to ensure families in the future do not suffer the pain and trauma experienced by the Bell family. The grave blunder story is a scoop of the year that will lead to long and lasting positive change in our country."