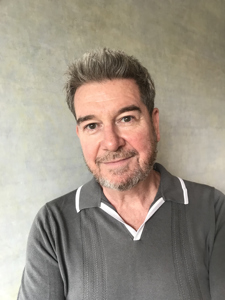 ---
Steve Boggan
Freelance
---
My name is Steve Boggan. I am a freelance feature writer and have been a journalist for four decades, mostly writing for The Independent (as chief reporter), London Evening Standard, Times, Guardian, Mail, and a variety of magazines.
I have written a series of features on policing for the Sunday Times Magazine. Two focus on the often unseen, or 'hidden'' crimes of modern slavery and online child sex abuse, while the third examines the policing crisis through the eyes of increasingly demoralised and vilified officers.
Human trafficking and modern slavery are huge problems in the UK but police contacts were telling me they felt frustrated because few people seemed to understand just how prevalent they were (and how people who were 'paid' could actually be called 'slaves'), so I decided to shine a light on them by getting as close as I could to victims and showing the extent to which they were being exploited.
Jamie Fyleman, Director of Global Development for Justice and Care, which campaigns for victims of trafficking, said of the piece: ''In the fight against modern slavery, public awareness is critical - and also empathy for victims. Steve Boggan's long read achieved both. We've used it to influence MPs and government. It has helped within the Home Office to raise awareness of our Victim Navigator programme and led to it being seen as an example of best practice.'
The work of the Met's Online Child Sexual Abuse and Exploitation unit, provided a unique insight into the horrific world of online child abuse, and the psychological impacts on the officers tasked with fighting it. To be given access to the inner workings of the unit, and to have individual officers share their fears and nightmares, was something of a coup.
Det Supt Helen Flanagan, head of the unit, said the article generated 'an incredible amount of support from the public, partners, and colleagues. It led to new relationships, specifically those who offer intervention programmes for perpetrators, and who, having seen the article, reached out to build on existing programmes. 'The most positive outcome came from within, with a number of the team disclosing they had never opened up to their partners, families, and friends about their role. They had found it difficult to share their experiences and what they were exposed to. This article gave their loved ones an understanding and appreciation of what they do, something that was invaluable to them.' 'Desperate times, special measures' (headlined online: 'We get called murderers and rapists'), took months to set up, but on the day I arrived, Wiltshire police, which had agreed to let me spend five shifts with all ranks, was put into the equivalent of special measures. For the rather embarrassed chief constable, the timing couldn't have been worse. For me, it was terrific. What followed provided a timely window on just why British policing is in such a mess, and what might be done to fix it.