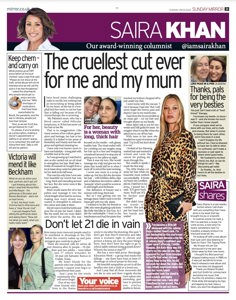 ---
Sunday Mirror
---
At the Sunday Mirror, Diversity & Inclusion isn't a buzz phrase, it's a core value.
We project the voices of people from marginalised communities, and strive to create a truly inclusive newsroom and a diverse future talent stream.
LGBTQ+
Over the past year we have been campaigning for justice for LGBTQ+ servicemen and women who were dishonourably discharged for their sexuality. Last year gay and lesbian veterans were allowed to lay a wreath at the Cenotaph for Memorial Sunday for the first time as a result.
Dame Kelly Holmes backed the campaign and trusted the Sunday Mirror to tell the story of her own hidden sexuality, which she kept secret for three decades out of fear instilled in her during her own time in the army. She said: "I felt safe and listened to about how I wanted my story told."
Gender
The Sunday Mirror's End Period Poverty campaign was launched in September by celebrity supporters including ambassador Mel B. Its aim is to give women an equal chance in life by making it law to offer free period products in public places and schools so no female is left behind because she can't afford menstrual protection.
Editor Gemma Aldridge has created an inclusive environment for people returning from maternity leave and a number of staff are on flexible working arrangements to allow them to nurture family life as well as their careers.
Race and religion
We celebrate diversity and bring the fight to racial discrimination. Our flagship columnist Saira Khan brings our readers the voice of a proud British Pakistani woman of Muslim heritage.
Over the past year our front page stories revealing a racist WhatsApp group in the Home Office and giving voice to a black victim of a racially motivated attack by Eastenders star Katie Jarvis both gained traction across the British media and abroad.
In Black History Month we followed the training journey of the first Black Englishman to take on Everest.
Disability We don't patronise people with disabilities or long term sickness, we empower them. Our health columnist Kevin Webber who has terminal cancer but spends his time completing marathons is the perfect example of this. We've also done uplifting features about everything from actors with Down's Syndrome to a wonderful amputee ballet dancer.
Social mobility
Editor Gemma Aldridge is founding chair of ReachPotential, a company-wide staff network dedicated to social mobility and diversity in the newsroom. In September last year its committee launched the Big OutReach programme. In its first year, the programme has reached over 1,000 young people through virtual work experience, masterclasses and newsroom internships. Applicants on free school meals, with refugee status, who are in care, have a disability or are people of colour are automatically accepted. https://pressgazette.co.uk/sunday-mirror-editor-gemma-aldridge-newsroom-talent-shortage-social-mobility/
Alumni of the scheme are then encouraged to apply for the Mirror trainee scheme. Gemma says: 'The only way for a publication to be truly representative of a diverse society is for that society to be reflected in our newsrooms.'