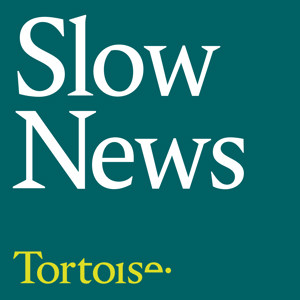 ---
The Slow Newscast Podcast
Tortoise Media
---
The Slow Newscast is a weekly narrative investigative podcast hosted by Basia Cummings.
Using the slow news ethos of Tortoise which prioritises helping its audience understand the forces that are driving a story, instead of rushing to break news, The Slow Newscast tells a different story each week.
At heart of it, is an investigative edge as demonstrated in 'Griffiths v Griffiths', where a lengthy and expensive legal battle - backed by Tortoise - uncovered how a former MP and Minister used his privilege and power to suppress allegations of rape and abuse.
Similarly, through choosing to investigate PornHub by looking into its secretive owner, Tortoise achieved a world-exclusive by finding where its owner - Bernd Bergmair - was based, telling the stories of those who have been abused by PornHub, and exploring the life and businesses of the world's biggest porn website's owner.
Whether it is investigating the origins of Covid-19 or the underhand tricks that may have played a role in Pfizer's dominance of the vaccine market, The Slow Newscast tackles the biggest stories of the day too, but only when it is able to provide a fresh perspective or new information.
Its narrative focus separates it from competitors in allowing us to go deep on one story. This was perhaps most effectively demonstrated by 'Lebedev: Lord of Siberia', which exposed how British democracy opened its doors to Russian influence and money. 'Lord of Siberia' highlights the benefit of a slow news narrative approach, as it reveals the true extent of the relationship between the Prime Minister and the son of a former KGB agent, at a time when Russia is waging an illegal war on Ukraine and democracy.
During 2021, The Slow Newscast's audience almost doubled and continues to grow rapidly through 2022. Primarily targeted at young adults, it has expanded beyond that demographic and continues to reach people hungry to learn about the world beyond the key headlines.