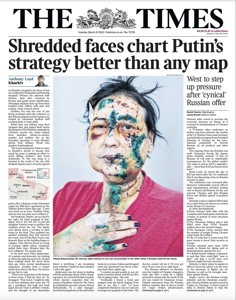 ---
The Times
---
'In Kharkiv's hospitals, the faces of war are sculpted by flying glass and burning shrapnel. Women are adorned with stitches, their skin coloured by bruises and garish green disinfectant. Wounded children stare up from their hospital beds, listless with pain and trauma. Some weep in shock.'
The introduction to Anthony Loyd's March 8 dispatch from Kharkiv, on the front page of The Times, was enough in itself to cut through the so-called fog of war. But alongside his words, it was the image of Yelena Bolyachenko that dispersed any of the remaining mist.
Her face a mass of scars and bruises, cut and dyed to form the look of a modern-day Frankenstein, she bore tragic proof of the brutality of war. And for those who could bear to look beyond her injuries, the sadness she felt was no more evident than in her left eye: fully open, the witness to her suffering, under the gaze of a photographer's lens.
Jack Hill has embarked on countless dangerous assignments for The Times, often alongside Loyd, his friend and colleague, sometimes not. Yelena was as vivid a reminder of the horrors of war as any he has captured in his distinguished career, and there was never any question that we would do anything other than use the front page to tell her story, and that of those who suffered with her.
The concept was simple. It helps to have two of the best conflict journalists working together, so taking Anthony's searing prose and running it around Jack's photograph felt like the obvious thing to do. We fully understood that some readers might shy away from something so brutal in its honesty; but then, if we can't give them evidence of an atrocity when we find it, what are we for?
As the headline said, the shredded faces of Ukrainians charted President Putin's strategy far better than any map in those early days of the war.
Readers understood. They thanked Anthony, Jack and all the journalists bringing the truth to them. 'Excellent reporting', 'stunning', 'harrowing, deeply moving and vitally important', and a sense of humility at the bravery, resilience, sadness and dignity of the Ukrainian people, so vividly portrayed by a front page none of us at The Times shall ever forget