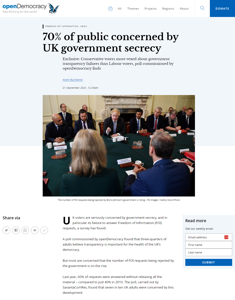 ---
Transparency in British Public Life
openDemocracy Ltd
---
In 2021 and 2022 openDemocracy has run a high-impact campaign on transparency in public life. This led to a government overhaul of the way it handles Freedom of Information (FOI) requests, to changes in how members of the House of Lords must report their interests and to record levels of reader involvement in openDemocracy journalism.
Following our ground-breaking revelations in 2020 about the role of the Cabinet Office's 'Orwellian' Clearing House in vetting 'sensitive' FOI requests, openDemocracy has revealed repeated transparency failures in government.
We revealed that the Cabinet Office spent tens of thousands of pounds trying to stop openDemocracy finding out about the Clearing House and showed that 2020 was the worst year on record for government secrecy. We spent a year trying to get access to ministerial diaries: our reporting prompted the Department for Education to update official transparency releases for Gavin Williamson, the former education secretary.
Following a complaint from us, the Information Commissioner's Office ruled that the government should provide the evidence that informed its position that the Advanced Research and Invention Agency should be excluded from the FOI Act.
We revealed that a donation of £3m to the Conservative Party appears to guarantee a seat in the House of Lords.
The 'Partygate' scandal gave us an opportunity to tell our readers in January that Sue Gray has not always been on the side of transparency with 'Partygate investigator helped shield No.10 from scrutiny over Grenfell'.
Prompted by openDemocracy's reporting, Parliament's Public Administration and Constitutional Affairs Committee launched an inquiry into the Clearing House. In April, it released a damning report criticising transparency at the Cabinet Office. In August, the government capitulated and announced that it would disband the Clearing House. We launched a series of surveys about government transparency, which received 10,000 responses from readers. We asked readers to crowdfund opinion polling, which showed that 87% of respondents said they were much less likely to vote for a party with a record of government secrecy. We used the findings in our journalism and in evidence to MPs. Further, using a tool on our website, readers have sent more than 5,000 emails to their MPs on lobbying and media freedom.
However, in our campaigning for government transparency, we have not limited ourselves to the government. We coordinated an open letter to the UK's new Information Commissioner laying out our expectations for his role in policing FOI. More than 100 senior journalists, politicians, campaigners, lawyers, MPs and celebrities signed it.
It was timed to coincide with an ICO listening exercise and as a result, the commissioner organised a roundtable with stakeholders including openDemocracy. The IC has lately been very vocal on FOI in his public statements and committed himself to "fix a system that clearly needs fixing".
All this has taught us that our journalism does not stop at the page, that we can have real impact on the world and that the people who read our stories are an integral part of that.