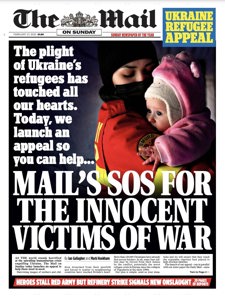 ---
Ukraine Appeal
Daily Mail and Mail on Sunday
---
It started as powerful, campaigning popular journalism at its best – and became the fastest newspaper fundraising appeal in the history of the world.
When Russia invaded Ukraine on February 24, the world stood horrified at the spiralling humanitarian crisis. Within three days, we had launched our Mail Force Ukraine Appeal in the Mail on Sunday, with a succession of follow-ups in the Daily Mail and MailOnline. Incredibly, by Tuesday afternoon, kind-hearted readers alone had sent us more than £1million, making it the fastest ever newspaper appeal to hit the million mark. And added to corporate donations, the overall total raised in those first three days was an extraordinary £2million.
The sight of desperate mothers - often clutching a single suitcase with one hand and a shivering and bewildered child with the other – crossing borders prompted readers in their droves to open their hearts and their wallets.To date an incredible £12million has been raised. Before that first week was out, we started transferring hundreds of thousands of pounds to international aid organisations already on the ground helping refugees.
The Prime Minister joined party leaders from across the political divide to applaud our initiative, as did Camilla, the Duchess of Cornwall, who made her own substantial donation. And there was an enthusiastic response from showbusiness royalty too such as Dame Emma Thompson, Sir Michael Palin and Dame Joan Collins. One of the most striking aspects was the amount of letters spilling out of postbags from readers. We even had precious pocket money donations from children as young as five. More than 100,000 readers donated.
It was up to the paper to keep driving the story. Over weeks, strong, fresh news reporting and powerful features maintained the momentum necessary. We visited the Ukrainian embassy in London, and asked how we could best help. The ambassador and his deputy looked us in the eye and said some of their people were starving – and urgently needed food. So Mail Force went into partnership with the embassy and the CBI to launch an innovative £8million project to deliver food parcels. Some 500,000 boxes containing enough calories to feed an adult for a week were packed in a Leicestershire warehouse.
Then we followed them on the 2,000-mile dash across Europe and through Ukraine to the eastern flank where they were placed into the grateful hands of desperate families as they battled to feed children and the elderly while under siege from Putin. Ukraine's President Volodymyr Zelensky personally hailed our mercy mission. In one of the most ambitious newspaper campaigns ever undertaken, our food convoy had passed burned-out tanks and weaponry, and navigated the bomb craters and chewed-up roads which bore witness to the barbarity of Putin's invasion.
The campaign was not all doom and gloom. It had to captivate and entertain too, and the latest initiative has brought smiles to the faces of Ukrainian children. The Mail Force Ukraine Appeal funded free summer camp places in Britain for refugees given sanctuary from the war here.